The Importance of Paid Internships and the Benefits They Create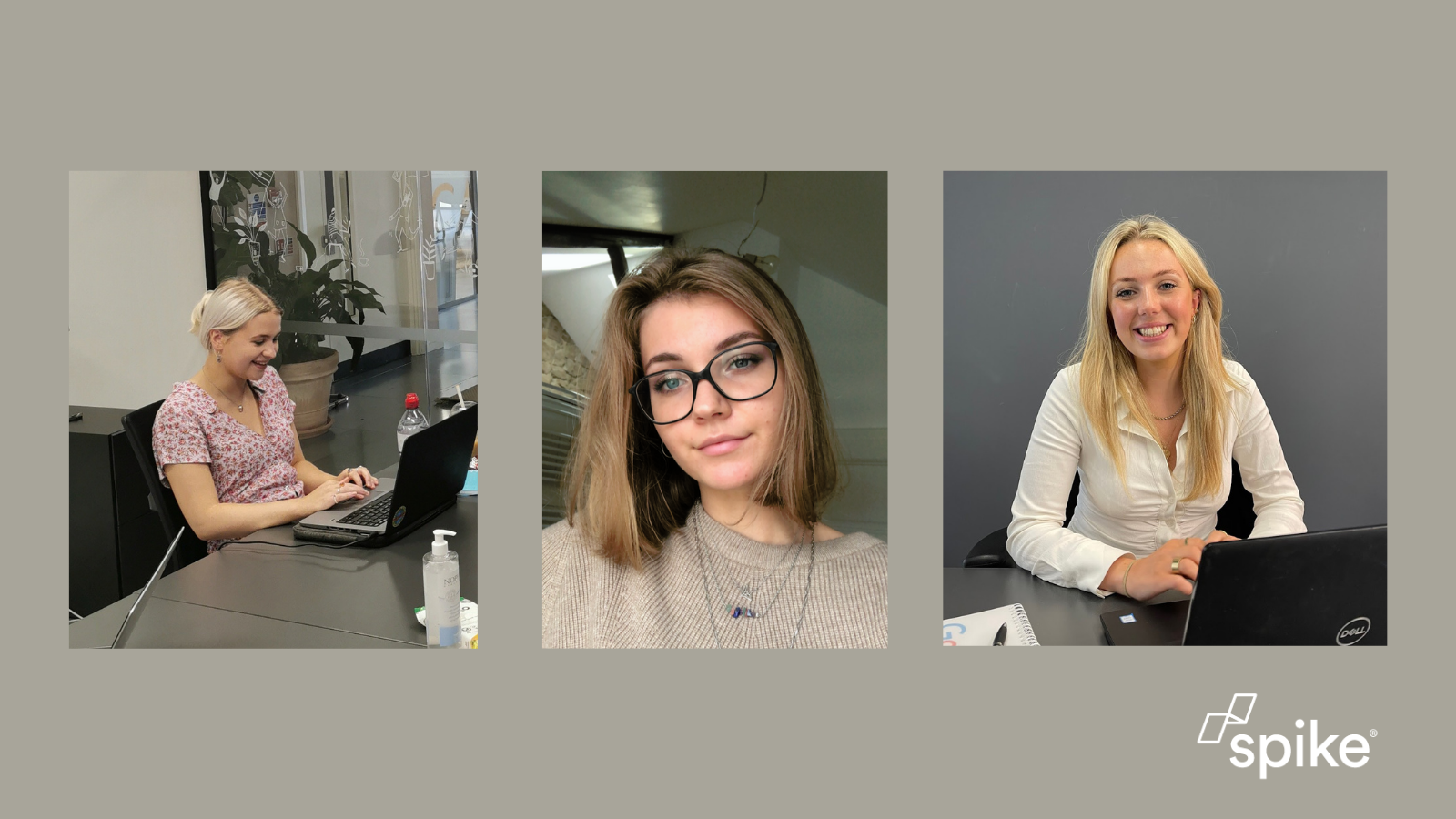 Spike are a big advocate of investing in a paid internship programme and ours has been running since 2018. The paid internship is aimed at helping bring new talent into the industry and provides a really solid introduction to working in digital marketing.
As our PR and Outreach team became busier over the summer months, we were delighted to open up two intern positions for this busy period of time.
The paid internships were offering a helping hand to the PR department but allowed our interns to gain some solid experience in the industry; something which is highly valued by employers. So after a busy summer of being embedded with our PR and Outreach team, we asked Laura, Antonia and Maja (who now works as a freelancer with Spike) to take over the blog and describe their time at Spike. On a side note, we would like to thank them all for their amazing work and how we were all impressed with their knowledge and enthusiasm for PR.
In the future, we will be introducing a graduate recruitment scheme for budding digital marketers, with structured training, mentoring and ongoing support to create a springboard for their careers.
A special thanks to Leeds University for all their help and support with the programme and for having such outstanding students! #DoGoodThings
Laura Wensley
My experience working remotely as an intern in the world of PR
Working remotely for the majority of my PR internship with Spike was a unique experience that has provided me with an invaluable set of skills that I can apply to so many different areas of life. Although initially the idea was daunting, I quickly learnt that with the right mind-set working virtually can be just as beneficial as being in an office.
Communication within the team, as well as with clients, was a vital part of my internship. Through emailing and using Google Meet, I was given clear feedback and training, which gave me the confidence to then work on tasks independently at home. Due to the nature of working remotely, my communication over email improved. Speaking with the PR team frequently over email, helped in turn with my pitching ability to clients as I learnt to put my point across in a more concise manner. Having one day in the office a week was useful to gain in-person feedback on my progression and to discuss any concerns I had.
Working from home was at times difficult due to the added distractions and sometimes there were issues beyond my control such as internet connection problems. However, once I recognized that these were problems everyone experiences working at home this put me more at ease. I put more effort into making sure I was using my time productively and became more confident in my own capabilities.
Ultimately, though working remotely did have its challenges I can confidently say it did not take away from my altogether positive internship experience. Working with Spike was an excellent introduction into the world of PR, where I felt I was able to communicate freely and voice any questions that I had with the team. Through working remotely, I felt I was able to exercise more independence and individual thought. However, I knew help was only an email away and coming in the office one day a week gave me the opportunity to have some valuable in-person feedback. Towards the end of my internship with Spike, my knowledge of PR strategies widened and I became more confident pitching to clients and creating press releases.
Antonia Liley
My time at Spike
After 8 weeks within the agency, my summer internship at Spike has sadly come to an end but what a great 8 weeks it has been! Not only have I gained lots of practical skills that I can take into future careers, but I have also built many working relationships which I will also treasure for years to come.
Despite being partly online, I was fortunate enough to experience the fantastic working atmosphere at Spike, and from the beginning felt warmly welcomed into what I could only explain to be a big family! More than this, I felt like I was able to make a good contribution to the company by assisting and working on projects throughout the summer. I worked closely with the PR and Outreach team in particular, on a number of exciting projects for some great clients. This ranged from writing press releases and newsletters to creating media lists and being a part of the delivery of outreach and link-building activities.
While I was able to learn a lot from being in the office with the Spike team, my most memorable day was at an event in which Spike organized for me to attend outside of work: Brighton SEO! This was such an exciting opportunity for me for two key reasons.
It was (and will always be) the first conference I attended, in person, in my professional career.
It was my first time ever visiting Brighton!
It was a day full of inspiring and insightful presentations and speeches. As someone about to graduate and at the early stages of my career, the great words of wisdom shared by a number of the speakers on the day have made me excited for the years to come. I am so grateful to Spike for giving me the opportunity to attend this event.
Another highlight was the PR Training Day that Spike's Head of PR, Sarah Carpin gave the team. That day I learnt so much about how to write good quality press releases, create the best media lists, how to properly enhance a company's online presence and was introduced to a number of different PR and outreach resources including being taught the ins-and-outs of Cision, Ahrefs & Hunter.
Overall, my internship at Spike was a success. I was able to gain practical skills, work in a fantastic environment, and make connections that will last a lifetime. I could not be more thankful.
Maja Jakobs
My experience working at Spike
The past year working at Spike as a Digital Marketing Executive has been and continues to be an enriching as well as an exciting experience!
When I first started at Spike, I had no knowledge or experience in marketing, however, the team did not mind and was always enthusiastic to train me, as well as answer any questions I had. In the past year, the team continuously supported me to be bold and share my own ideas. The team has also increasingly shown their trust towards me by increasing my responsibilities and thus further encouraged me in my own autonomy and creativity.
Although my time at Spike has been characterised by working remotely, it never lacked team spirit. Whether through online socials over lockdowns, team activities such as Spike's charity step challenge or recurring work calls, I have felt a part of the team since the beginning of my position at Spike.
Overall, my experience at Spike not only taught me key concepts in the world of digital marketing but also really made me value working in an enthusiastic, closely knitted, passionate and optimistic team with inspiring (and fun!!) people.